Airbrush Tanning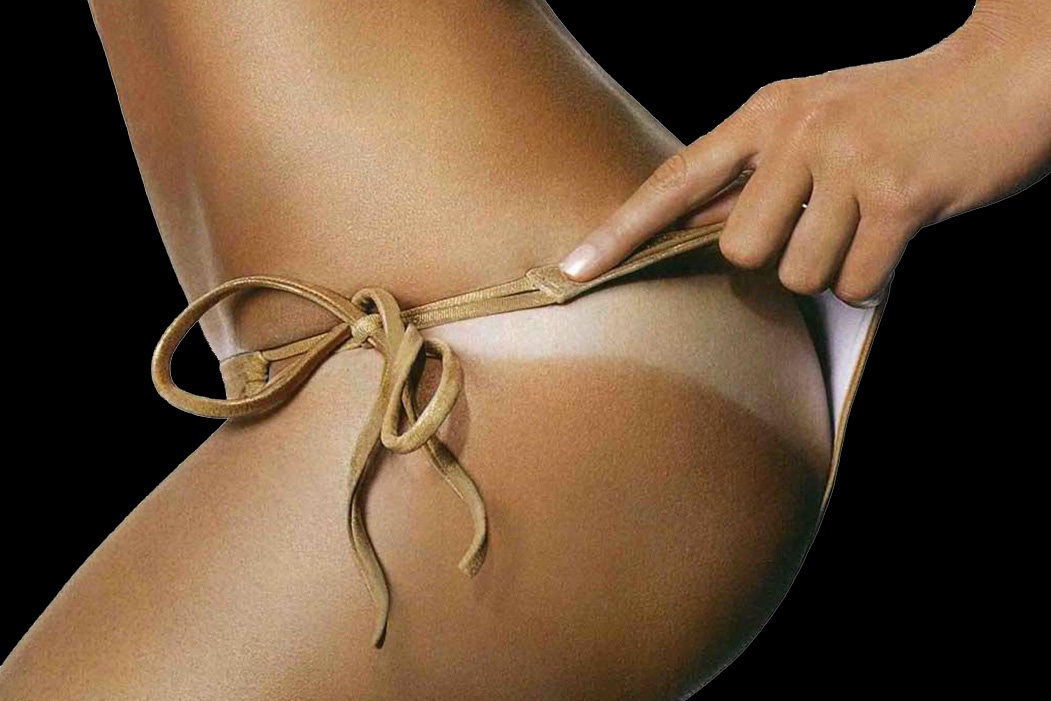 At Haute Tan we have the latest and most effective way to obtain a long-lasting, natural, sunless glow. We also offer high-quality skincare products. Our personalized attention will give you a beautiful, even color every time. Your "just off the beach" tan takes less than 15 minutes and is hassle free.
Why is keeping skin moisturized essential to maintain great Sunless results?
It is important to keep skin moisturized after your Sunless session as dry, flaky skin will slough off faster and color will fade sooner. Sunless tan extending products with a light self tanning bronzer helps hydrate skin and maintain even, natural looking color longer. Give the DHA time to fully react with skin proteins.
Can I work out after a Sunless session?
NO, it is best not to do any strenuous activities that may cause perspiration after your Sunless session. This will give the DHA time to fully react with skin proteins as well as prevent streaking that could result from excessive perspiration. You may work out after the recommended 12 hours and your first shower.
How many days will a Sunless tan last?
The longevity of a Sunless tan depends on the skin's natural exfoliation process and on the skin regimen followed before and after application. On average, a sunless tan will last 4-7 days. The "lifespan" of a Sunless tan also depends on your skin's natural exfoliation. The faster your skin regenerates, the faster the sunless tan will fade. The tan created by the DHA and Erythrulose effects only the top layer of the skin and will begin to fade after four to five days as the skin naturally begins to exfoliate. Using loofahs, shaving, exfoliating will also make your tan fade faster. Everyone is different and will have different results.
Can I do a Sunless session in addition to a tanning bed?
Absolutely! In fact, we recommend it. Sunless tanning results are phenomenal over a nice base tan. It is the best way to obtain a fast, instant and natural tan. At Haute Tan we refer to this process as a "Double Dip." Please ask any Haute Tan Tanning Professional for details on our Double Dip process and Membership package.
Anti-Aging & Skin Firming Moisturizer treatment Add on's
This is an additional experience you can add on in our Versa Spa booth at the end of your sunless tanning session. The treatment is formulated to nourish your skin and extend the life of your newly applied tan. Skin that is well moisturized is more likely to bond with the bronzing solution to help your color go deeper. This hydrating treatment also contains a blend of skin soothing botanicals, soy proteins, and green tea extracts to replenish your skin's vital nutrients, diminish fine lines and deepen your golden color. It's the secret to a longer-lasting natural looking sunless tan.
Will my skin look orange?
No. The advanced technology currently used in sunless tanning solutions is designed to ensure a natural, bronze tan. We have three different solutions made specifically to suit a wide range of client skin tones. We know it is important to color match the formula that is right for you, a Haute Tan employee will be more than happy to help you select the proper level of tanning solution to best match your skin tone. If the formula is too dark for your skin tone you are more likely to be unsatisfied with the results. Our solution is also made with natural ingredients to keep your skin nourished and help it absorb the solution for even and natural color. Also, follow all pre-and-post session instructions to ensure that your sunless tanning coverage is even, smooth, and perfect every time.
Are any sunless tanning products on the market 100% organic?
No. It is not unusual for Sunless tanning products to contain over 20 ingredients, yet only one is authorized by the FDA to provide a sunless tanning effect on the skin (DHA Dihydroxyacetone). Although DHA is naturally derived, to date there is no 100% certified organic DHA ingredient on the market. You may see products with claims such as, "includes natural/organic ingredients", which may be an accurate claim, but that does not mean the entire product, nor the tanning agent is 100% Certified Organic.
How long should I wait after a session before showering?
To give the DHA enough time to fully set, it is recommended waiting a minimum of eight hours after a sunless spray tanning session for optimal results. Showering sooner may diminish the intensity of the tan. If you tan using an Instant Cosmetic Bronzer, the Instant Cosmetic Color will wash off in the shower, but the color produced by the DHA will remain. If you are using our Rapid 1 hour solution for Airbrush you may shower in just 1-2 hours.